Hypochondria Test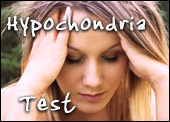 Find out if you may have hypochondria
, an often debilitating psychological disorder, by taking the
4degreez.com
Hypochondria Test. Just fill out your answers below and the test will attempt to gauge whether or not you have this disorder. Keep in mind that only a professional can make a true diagnosis.
Hypochondria causes people to become preoccupied with the belief that they are suffering from one or more physical diseases. This belief causes great psychological suffering on the part of the hypochondriac. Anxiety and depression often result. However, most cases of this disorder respond to treatment. Hypochondria is also known as hypochondriasis or health anxiety, and may be related to somatization disorder.
Take the test below, and then seek the help of a professional if you believe you may be suffering unecessarily from hypochondria. Remember that this test cannot make a professional diagnosis. It can only point you in the right direction. After the test, check out our hyperchondria forum.
The Hypochondria Test is brought to you by the 4degreez.com Interactive Community, with Jokes, Poetry, Quotations, and more. Thanks for visiting.
---
This test Copyright 2006, 4degreez.com - All rights reserved